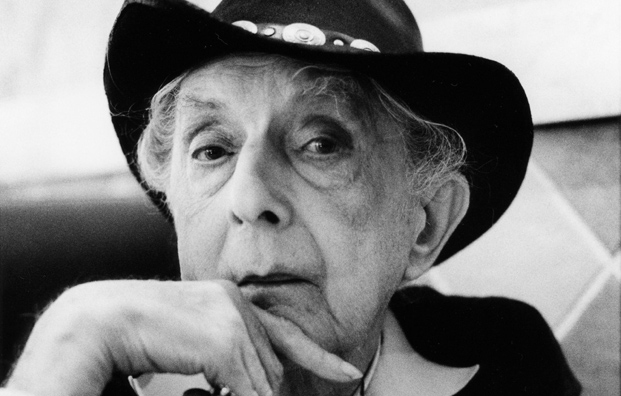 Sadly, Quentin Crisp was well into his dotage by the time he became an acquaintance of mine, and into the very last years of his life when we became what you could call friends.
Yet, despite the fact that all of our relationship was conducted either by letter or telephone, the experience of knowing England's greatest stately homo was both richly rewarding and indelible; still today I cannot help but smile warmly when I think of his timeless quips and the many conversations which took place during the few short years of our friendship.

We first corresponded in the middle nineties – I was working on my debut novel, and had cause to make contact whilst reviewing his book, How to Become a Virgin. Within days of my letter, a shaky reply came back addressed to 'My dear Mr Burton…' and within weeks, we were writing regularly to one another.

He offered to read drafts of my book. As each chapter took shape I would post it to his New York apartment, and the resulting critique was by turns acerbic and praising; always helpful.

"I think you should stop trying to write English literature," he once told me. Surprised and a little offended, I asked what he meant. "Well, I think you should look at what you've written and start to pare away all the words and phrases that aren't necessary – say what you've come to say and nothing more. That way, it will be in your own style and your writing will be fine."

It's a lesson I took on board, and one which I still follow today.

Denis Charles Pratt – "My name before I dyed it" – was reluctantly born on Christmas Day in 1908 to solicitor Charles Pratt and former governess Frances Pratt. "As soon as I stepped out of my mother's womb on to dry land, I realised that I had made a mistake – that I shouldn't have come, but the trouble with children is that they are not returnable. I felt that the invitation had really been intended for someone else. In this, I was wrong. There had been no invitation at all either for me or for the brother born thirteen months earlier."

Life didn't really get any better for Mr Crisp as he flounced his way through 1930s London "so disfigured by the characteristics of a certain kind of homosexual person" that he had to endure beatings and aggression as an everyday part of his life. "My way of going on was a protest – the beatings were a counter-protest, so I had to accept them."

He eventually settled into the role of a life model at an art school, which led to the writing of his autobiography The Naked Civil Servant which was published in 1968. But it was the eventual dramatisation of this by Granada Television in 1975 which led to the huge success Crisp enjoyed in the "sunset" of his life, as he preferred to call it.

He moved to Manhattan in the early eighties and enjoyed his success quietly in his cramped, downtown apartment. "I am not famous," he would pronounce with pride, "I am notorious."

I remember confiding in Quentin when I had broken up with my partner. His advice was typically Crisp: "Being in love is almost as much of a burden as being abused. Couldn't you just live alone? It's less expensive, and I've done it for 90 years. Try it." It was a logic you couldn't argue with, and better than any amount of tea and sympathy.

We arranged to meet up several times, but the logistics of lunch in Manhattan didn't fit in with my schedule any more easily than afternoon tea in London did with his desires. "I never come back to England – London was no kinder to me than I was to it. I love America, it is my home now."

But he was reluctantly persuaded to tour the UK one last time, and his first appearance was to be at Manchester's Green Room on Monday, 22nd November, 1999. "So you see, dear Mr Burton, we will be able to meet at last. Come and see me before the show."

I was elated, and on the said day excitedly drove my car toward the city. As I approached the motorway turn-off I almost stopped in my tracks. I could not believe what I was hearing on the radio news bulletin:

'The flamboyant writer, actor and homosexual rights campaigner Quentin Crisp has been found dead at a house in Manchester. The 90-year-old great British eccentric, who lived in New York, was taken to the Manchester Royal Infirmary where he was pronounced dead. Police say that there were no suspicious circumstances.'

I quickly pulled over to the side of the road. The tears I cried were very real: tears of disbelief, of sadness, of sheer disillusionment. Nothing like this had ever happened to me before, nor has it since – not in real time, like that. I simply did not know what to do; the news didn't seem real or tangible – I was on my way to a meeting. This news couldn't be true. Surely if I arrived at my destination, my friend would just be there. Alive. As planned.

After about half an hour of merely sitting there in my stunned state, I turned the car round and headed for home. I knew I had lost an irreplaceable friend. It mattered not that we had never actually met – it simply wasn't to be.

Once asked if he had made any funeral arrangements, Quentin thought for a moment and then replied: "No flowers. No candles. No long faces standing around in the rain, staring down into a hole in the ground while someone drones on about how wonderful I was.

"I'd rather be shuffled off. Just drop me into one of those black plastic bags and leave me by the trash can."

It would be a fitting end for a man to whom so many of us owe a debt of gratitude. I think Quentin, knowingly or otherwise, took the beatings so that we wouldn't have to quite so much.

Both comments and pings are currently closed.